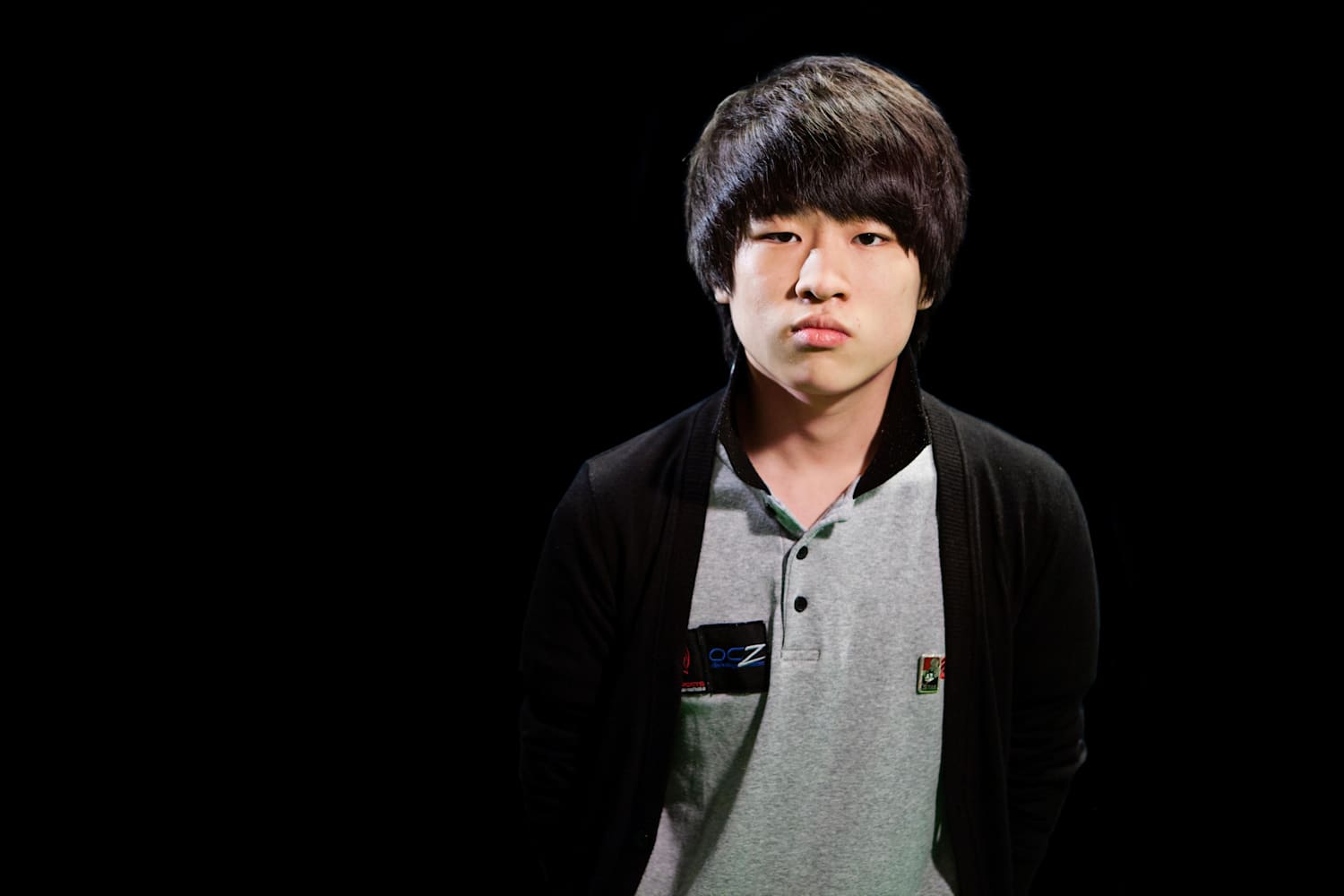 Cho "Maru" Sung Choo is a professional StarCraft II player.
He entered the pro scene as a teenager, and was regarded as a top terran player as early as 2012. Maru claimed all three Global StarCraft League (GSL) championships in 2018
Cho "Maru" Seong Ju is a Terran player from South Korea, who is currently playing for Team NV. He is well known for being the youngest[1] GSL player of all time, winning his first televised game at the age of 13
2017 – 2018
On 8 December 2017, he successfully qualified along with Dark and Classic for the upcoming offline event WESG Asia-Pacific Qualifier from second place with wins over Forte and Solar. Later that month, Maru qualified for the first GSL of 2018, albeit only on the second day of qualifiers. In January of 2018, Maru was able to qualify for the World Electronic Sports Games 2017 Main Event in China from the Asia-Pacific Qualifier rather easily, although health issues prevented him from achieving a better result than 4th place. He advanced from his Ro32 and Ro16 GSL groups despite an upset loss to KeeN in the earlier round.
In late February online qualifiers for the upcoming IEM World Championship in Katowice were held. While Maru failed to qualify for the event in this way, he and his teammates went to Poland to play in the open bracket, which he and Trap advanced from. After losing to TY and Dear in the group stage but beating all remaining players in his group, Maru started facing his teammates. He managed to edge out sOs in a very close 3-2 series and afterwards went up 2-0 against Rogue, but his tournament run was ended in a reverse sweep.
In mid-March 2018, Maru was scheduled to play in the 2017 WESG Main Event just a few days after his GSL Ro8 match, in which he once again overcame sOs 3-2. At WESG, he showed good form as he went through both group stages with only a single map loss to ShoWTimE. After disposing of Reynor and Serral with 3-0 score lines each, Maru had once again reached the grand finals of WESG. This time it was him who took home the grand prize, overcoming Dark in a nail-biting series and catching him off guard in the 7th and final game with a 2 barracks proxy.
Less than a week removed from WESG, Dark and Maru faced off in a rematch to decide who would join Stats in the GSL finals. The series was once again of the highest quality, with Maru emerging victorious once more, 4-2 this time. Only days later, it was time for Maru's first GSL final. Showing off his ability to prepare for a longer series, Maru caught Stats off-guard with a variety of different strategies the Protoss didn't have enough answers for. As the dust settled, Maru stood victorious and became the first (and likely only) player to win an OSL, an SSL and a GSL.
As GSL champion, Maru was naturally invited to the Super Tournament. His first round match against soO is most notable for soO's computer crashing in the super late game during game 4. Instead of attempting to resume the match from replay, soO rather forfeited the match outright, seeing no chance to win from his position anyway. However, Maru's tournament life came to an end at the hands of Classic in a rather sloppy series.
Back to back champion
Seeded into GSL and equipped with the right to choose the first player he wants to face in the Ro32, Maru's group ended up containing Zanster, Bunny and Dear. Although Maru struggled a little bit to take down Zanster, he advanced in first place with no map losses. In the groups selection ceremony for the Ro16, being the champion of last season, Maru opted to choose Patience first. He convinced Patience to pick Solar who subsequently chose Zest. After the groups were seemingly completed, Maru used the right of the first seed to swap INnoVation with GuMiho in an attempt to help sOs. While Patience ended up putting up an impressive fight, Maru only dropped a single game to win his group once more.
In the quarterfinals, he faced Rogue in yet another teamkill. The two were closely matched, but eventually Maru took the series 3-2. Then, in the semifinals he met his old enemy Classic. At the time, there was little doubt Classic was the best PvT player in the world, having only dropped a single series since Patch 4.0.0 had been released[14]. Aided by his strong preparation and a recent balance patch that buffed marauders and made the earlier stages of the game more favorable for Terran, Maru took the series 4-1. Maru met Zest in the GSL finals and handed him a crushing 4-0 defeat to become the first GSL champion to defend his title since NesTea did the same 7 years prior.
Going into the 3rd season of GSL of the year, Maru once again won his Ro32 group, although he had some unexpected trouble with Leenock. Maru's struggles against Zerg became more evident at GSL vs the World, as he struggled to take down soO, just barely winning the 5th and final game of their series. What followed was an easy win against ShoWTimE and a very intense series against Stats that Maru ended up losing 1-3. The team portion of the event didn't go much better for Maru, whose hand-picked team lost 2-5, he himself suffering a defeat at the hands of Serral, the eventual GSL vs the World champion.
For his Ro16 group, he picked Neeb, who in turn picked Impact. At the end of the group selections Maru used his power as the first seed to swap TY with Reynor. Maru ended up facing the two foreigners, defeating Neeb 2-0 but having some troubles with Reynor before clawing his way through.
In the round of 8, he beat Gumiho 3-0 before playing against Zest. In a rematch of the previous season's finals, Maru again showed his dominance with a 4-1. However, Maru finally faced what would prove to be his toughest challenge in the finals yet, TY. After claming he would have swapped TY instead of his teammate had they both gone to his group, many believed Maru to be scared of TY. The actual finals lived up to the hype, as the series went the full 7 games. Maru, keeping to his style of the year, proxied 5 games out of the 7, including the first 4 games. After falling down 2-3, he returned to a proxy, which ended up being successful. TY actually did not die to a proxy outright in a single game this series, but none of this mattered on map 7, GSL Atlas SE, a 4 player map. Despite falling behind over 10 supply and a failed cloaked banshee transition by Maru, he pulled his SCVs with two tanks, some marines, one cyclone, and two banshees and barely pushed through TY's defense for his 3rd GSL Code S in a row.
Trivia
Was described as a "Little teddy bear" by Lani during IGN ProLeague Season 4.
Is the youngest Royal Roader in OSL history and the first eSF OSL champion.
When Maru won his OSL title, he was one of two remaining players (alongside KangHo) from the 2010 GSL Open Season 1 still in Code S/Premier League.
Was listed on Greatest Players of All Time list on TL as 13th.
Is the first double Royal Roader in Starcraft 2 and second double Royal Roader after BoxeR in Starcraft's history after he won 2015 StarCraft II StarLeague Season 1.
Maru is one of the Four Horsemen of Terran, alongside INnoVation, TY, and ByuN.
Surpassed Rogue as the biggest money earner in Starcraft II after his WESG victory.
Maru, sOs and Rogue are the biggest Starcraft II prize money earners as of 2018, while all being on the same team (Jin Air Green Wings).
He is the first Terran player to win two GSL in a row, winning 2018 GSL Season 1 and 2018 GSL Season 2, and the second player after NesTea.
He is the first player to win four GSL in a row, winning 2018 GSL Season 1, 2018 GSL Season 2, 2018 GSL Season 3 and 2019 GSL Season 1.
He is the first player to break the 3000 point mark on Aligulac.
Game